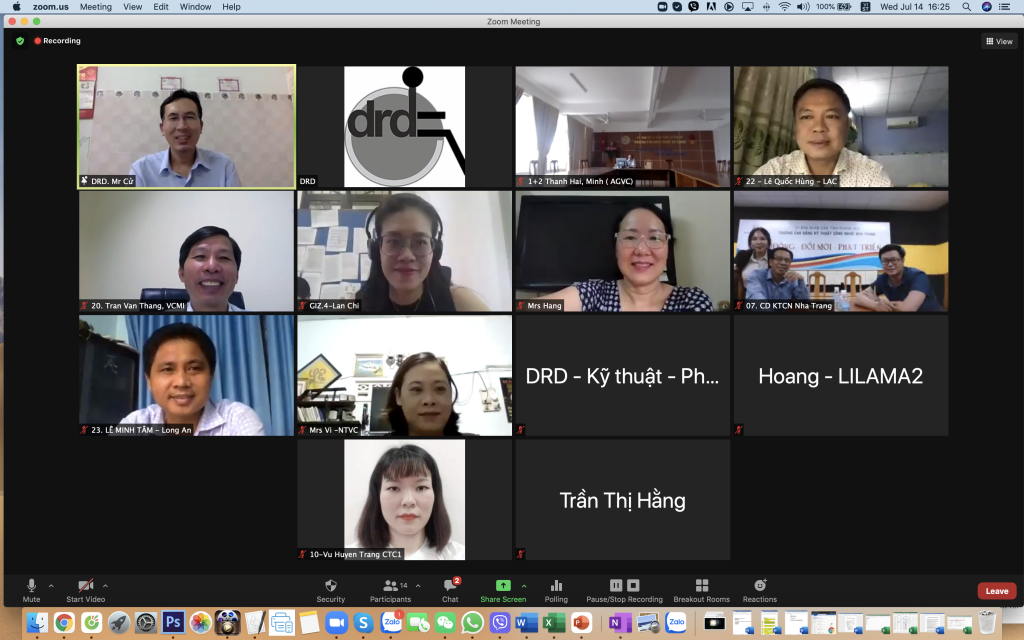 The inclusion of people with disabilities in vocational education and training does support education to meet the different needs and abilities of trainees, ensure the right to learn and train equally, respect diversity and differences of trainees, but inclusion also helps vocational education institutes to strengthen their brand, promote creative innovation, create social impact and diversify its trainees.
Aiming to build an inclusive training environment, the Vietnamese-German Cooperation Programme "Reform of Technical and Vocational Education and Training (TVET) in Viet Nam" organized two online training courses on "Equality and inclusion of people with disabilities" for 41 teachers, managers and career guidance consultants of partner vocational colleges of the Programme on July 14, 2021 and July 19, 2021.
The training course aimed to help administrators, managers and teachers better understand people with disabilities and the importance of disability inclusion as well as to develop inclusion plans. Moreover, participants learned how to provide career guidance for people with disabilities. This supports the partners to develop a plan to include people with disabilities in vocational education right from the admissions counseling stage.
To achieve this goal, the training introduced the barriers for people with disabilities in vocational education, support models, relevant inclusion support policies and the importance of disability inclusion. The trainer also explained how to adjust institutes, classes and lesson to be more accessible how to provide support and advice to trainees with disabilities. Moreover, participants experienced the perspectives of people with disabilities through video clips and had the chance to practice their new skills through solving case studies related to disability inclusion, practice creating inclusion plans and counsel prospective trainees.
The training course met 100% of the participants' expectations and 90% (9/10 TVET institutes) are committed to applying the content learned in their upcoming work[1]
Following the success of the training courses and proposals of partner TVET institutes, the Programme will continue to raise awareness and provide capacity development measures for TVET institutes and partner enterprises on inclusion in vocational training, career guidance and labour market transition to promote an equality of opportunities and not leave people with disabilities behind in vocational education.
The activity took place within the framework of the Programme "Reform of TVET in Viet Nam", funded by the German Federal Ministry of Economic Cooperation and Development (BMZ), which is implemented by Deutsche Gesellschaft für Internationale Zusammenarbeit (GIZ) in cooperation with the Directorate of Vocational Education and Training under the Ministry of Labour, Invalids and Social Affairs of Vietnam.
---
[1] Answers according to the post-training assessment on the expectations and applicability of the training